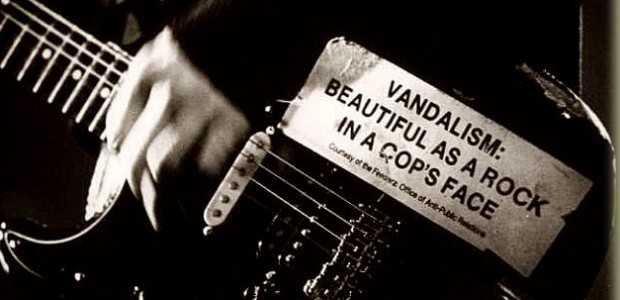 In the mid 80s, a new genre of music began to emerge from the Seattle music scene. This punk/rock hybrid consisted of electric guitars, distortion pedals, angst-filled lyrics, and a lot of noise. It wasn't meant to be radio friendly, it was grunge. Sub Pop Records capitalized on the growing interest in grunge and began offering these bar bands record deals. By the early 1990s, the grunge movement was starting to pick up steam worldwide. With the launch of Nirvana's Nevermind, Pearl Jam's Ten, and Smashing Pumpkins' Siamese Dream, grunge became mainstream.

It all came to a quick end with one self-inflicted gunshot to Kurt Cobain's head. Eventually Soundgarden, Hole, and The Smashing Pumpkins split up, Layne Staley, from Alice in Chains, overdosed a few years later, and Pearl Jam shifted to rock. The era was over.
Resurrection
As generations pass, older ones turn retro and stylish again. It happened with the 70s and more recently with the 80s. Now in 2010, it's happening again with the early 90s. Grunge is starting to see a comeback. Soundgarden, Stone Temple Pilots, and to an extent, Hole and The Smashing Pumpkins have all reunited. Alice in Chains replaced Layne and released Black Gives Way To Blue last year. Even the Foo Fighters are going old school with their new album by teaming up with grunge producer Butch Vig. Sure they've always been more rock but a picture that they recently posted suggests some grunge influence:
Is plaid cool again?
Don't open that dusty box of clothes from the attic just yet. Most of the members of those 90s grunge bands we once loved are now in their forties. The angry teenagers who moshed to Smells Like Teen Spirit have families to take care of now. There have been very few band reunions, if any, that have ever worked out. Without new, younger bands taking stage, it would be nearly impossible for the genre to become popular again.
Still, it isn't all doom and gloom for the Seattle sound. The Kurt Cobain biopic, which Courtney Love has green lit, will serve as an introduction to the younger generation who may not be fully aware of what grunge was all about. Soundgarden's Guitar Hero game will also help the cause.
The New Grunge
Soundgarden's reunion marks a big step for the return of grunge. Their first new album is a compilation disc and features one previously unreleased track which is already tracking well on music charts (you can listen to it below). There aren't any immediate plans for a new original album but that doesn't mean it won't happen; up until last December, Chris Cornell denied that Soundgarden would ever reunite.
Alice in Chains is looking to create a follow-up to last year's album. Courtney Love launched Nobody's Daughter earlier in the year under the Hole moniker and Billy Corgan released his 44-song record for The Smashing Pumpkins. There are also post-grunge bands like Stone Temple Pilots, who launched their new album earlier in the year, and Seether, who have temporarily inked January 2011 for theirs.
While grunge may never recreate its exorbitant success from the early 90s, it's good to see some signs of life after all these years of silence.