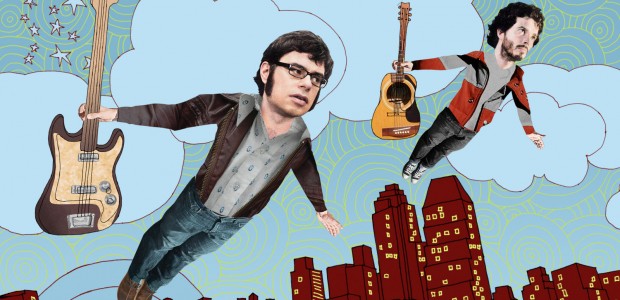 It's well known that music can help people get into a good mood and that ability is amplified when the song itself is funny. If you're trying to cheer yourself up or just looking for a quick laugh, then our list of the funniest songs of all time will definitely help you. If you think we missed a tune, let us know in the comments section below.
To select our funny songs, we took a look at tracks that genuinely make us laugh, don't take themselves too seriously and also, the music itself must be great. They don't necessary need to have been Billboard hits, they just need to be funny songs.
Looking for songs to put you in a good mood? Don't forget to look at our 65 best happy songs of all time.
Here is a preview of the top funniest songs of all time. Keep reading for the full list.
35

Peaches - Mommy Complex
Funniest Lyric:
Hush now baby don't you stress. I'm gonna fill you mommy complex
34

L7 - Shitlist
Funniest Lyric:
When i get mad, and i get pissed, I grab my pen, and i write out a list, Of all the people. That won't be missed. You've made my shitlist
33

Daveyboyz - Heavy Metal Farmer
Funniest Lyric:
ROOOOOOAAR
32

Ween - Touch My Tooter
Funniest Lyric:
Buddy - why's my brain so muddyWhy do I feel like puttyWhen she walks into the room(touch my tooter)
31

Tenacious D - Low Hangin Fruit
Funniest Lyric:
Well, me and Kage are hungryWe're hungry for some fruitWe wander through the gardenIt would be a hootTo eat some low hangin' fruit
30

Chuck Berry - My Ding-A-Ling
Funniest Lyric:
And then mother took me to Grammer SchoolBut I stopped all in the vestibuleEvery time that bell would ringcatched me playin' with my ding a ling