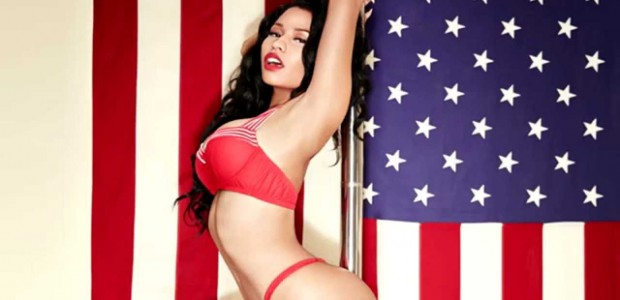 Each and every year, once the warm weather begins, a newly released single is given the sought-after title of "the song of the summer." At, times there can be some dispute as to which track is officially the season's song, like last year with Iggy Azalea's "Fancy," or there can be a unanimous decision made by the general public, as was the case a year earlier with Daft Punk's "Lucky."
The jury is still out on summer 2015. But since summer hasn't even officially started yet, we have some time to choose the "it" track of the season. To help you decide, we've compiled the highest-ranked contenders in our list of Top 11 Summer Songs of 2015.
11

Jamie xx - I Know There's Gonna Be (Good Times) ft. Young Thug & Popcaan
Summer is all about having good times, and Jamie xx's "I Know There's Gonna Be (Good Times)" captures that mindset perfectly. Some old school sampling (courtesy of the The Persuasions) mixed with the more modern rhythms make for one of those hard-not-to-love sounds everyone can enjoy, crucial to a quality summer song. All you really wanna do when you Good Times is drink beers on the beach with some friends taking in the joys of the season, so refrain from listening anytime you're caught up at work.
10

Adam Lambert - "Ghost Town"
Even the sunshine of summer can have some angst, and that's where Adam Lambert's "Ghost Town" comes in. You'll no doubt have some summer fling that's going to go sour before the season is up, and this dark-yet-poppy track is the musical answer to your not-quite-a-breakup whirl of emotions during summer 2015. You definitely won't be hung up too long listening to this song either, as the infectious rhythm will inspire you to go bust a move and find a new beau.
9

99 Souls feat. Beyonce & Brandy & Monica - The Girl Is Mine
How do you make Beyonce any better? At the risk of angering the B Hive, I'm going to say bettering Beyonce is impossible because she's flawless, but to humour the hypothetical, the answer would be to add another set of ladies with cool vocals we loved in the 90s, namely Brandy & Monica. Already a viral sensation, 99 Souls' "This Girl Is Mine" is an expertly crafted remix that does all three of the original artists justice.
8

Mark Ronson ft Bruno Mars - Uptown Funk
Technically Mark Ronson's "Uptown Funk" hit the music scene well before summer was even on anyone's mind, but the incredibly upbeat and dance-y track has stayed at the top of the charts since, so the song has earned its place on this list. Even if you've heard it a million times on the radio already, you know you get into a good mood every time the jam plays, and that's pretty essential for a summer song.
7

Major Lazer & DJ Snake - Lean On (feat. MØ)
Cultures collide in "Lean On," a collaborative track from Major Lazer (itself comprised of members from varying nationalities), French DJ Snake, and Danish singer MØ, with the song having a strong Indian influence if the international cred of the creators wasn't enough. "Lean On" was actually inspired from Major Lazer's tour of India, as the group wanted to create a video and song reflecting the positive vibes of the nation. You can definitely feel the warmth in Lean On, making for a hot summer single.
6

Britney Spears, Iggy Azalea - Pretty Girls
Two of the most well-crafted pop creations by music industry executives, the not-quite-a-teen-sensation-anymore Britney Spears & Igloo Australia, err I mean, Iggy Azalea, have joined forces in "Pretty Girls," an uber-kitschy track that is annoyingly infectious. A self-aware ridiculousness pervades the entire music video, which actually serves as a saving grace to the song, as at least everyone involved knows its just a silly pop track. With that in mind, Pretty Girls definitely works as a summer song, embodying the "lets just have fun for the sake of fun" vibe of the season.